The HIC or SOHIC grades are special high strength normalized or quenched and tempered CMn grades adapted for pressure equipment. These grades are manufactured via the electric arc furnace with desulfurisation, dephosphorisation, ladle refining and vacuum degassing to provide reproducible, clean and homogeneous steel.
The use of special steelmaking practice giving high steel cleanliness gives excellent resistance to wet H2S cracking such as HIC. These steel grades also display excellent weldability and toughness properties.
They are particularly suitable for pressure equipment in both refinery and gas treatment applications under sour service conditions, where wet H2S corrosion can be a problem.
Advantages
Thanks to a special steelmaking process, BOZHONG HIC and SOHIC steel plates are specially designed to resist:
• Sulfide Stress Cracking (SSC),
• Hydrogen-Induced Cracking (HIC),
• Stress-Oriented Hydrogen-Induced Cracking (SOHIC).
Find out more on our production process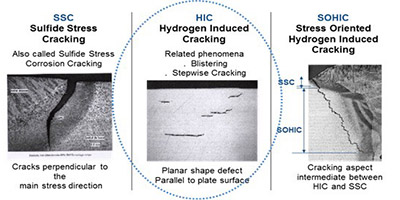 INDUSTEEL TRADEMARKS
PLATES
ASTM A / ASME SA
PLATES
EN 10028 series
FORGINGS
ASTM A / ASME SA
OTHER


BOZHONG 60 HIC

A/SA 516 Grade 60
UNS K02100
P 275 NH/NL1/NL2
1.0487 1.0488 1.1104
-
-

BOZHONG 65 HIC

A/SA 516 Grade 65
UNS K02403
P 275 NH/NL1/NL2
1.0487 1.0488 1.1104
-
-

BOZHONG 70 HIC

A/SA 516 Grade 70
UNS K02700
P 355 N/NH/NL1/NL2
1.0562 1.0565 1.0566 1.1106
A/SA 266 Grade 2 & Grade 4
A/SA 765 Grade II
-

BOZHONG HIC Premium+

A/SA 516 Grades 60/65/70
-
-
optimized for stock to meet all specifications

BOZHONG 70 SOHIC

A/SA 516 Grade 70
UNS K02700
P 355 Q/QH/QL1/QL2
1.8866 1.8867 1.8868 1.8869
A/SA 266 Grade 2 & Grade 4
A/SA 765 Grade II
-

BOZHONG533E

A/SA 533 Type E Class 2
UNS K12554
-
A/SA 508 Grade 3 Class2
-

BOZHONG 500HR

-
P 500 Q/QH/QL1/QL2
1.8873 1.8874 1.8875 1.8865
-
-
-
A/SA 537 Class 2
UNS K12437
-
A/SA 508 Grade 3 Class1
-
-
-
-
-
API 5L X60QS PSL2 annex H
-
-
-
-
API 5L X65QS PSL2 annex H
Applications
• Offshore : Separators, contactors,
• Gas Plant : H2S absorbers, BOZHONG HIC Premium+
• Linepipe : ASTM process pipe, fittings
PDF:
http://www.industeel.info/wp-content/uploads/2016/01/Industeel-Pressure-vessels2012-BD.pdf